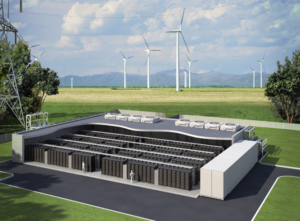 As sure as snow accumulation builds in parts of the northern hemisphere during the hibernal season, it seems that not a day passes without news of utility and commercial deployments or tests of solar, battery storage, or combined solutions.
This is driven in part by the low-cost of capital thanks to large investments in this sector, plus a decline in costs for solar, storage and wind while deployment and production have increased. According to some studies, solar has reached parity with natural gas in utility grade installs and is trending to reach parity with commercial electricity costs in certain states.
Additionally, solar is increasingly being viewed by utilities as a stable alternative energy source when compared to volatility in the price of natural gas, which presently powers the majority of US electric utilities. With 30 states currently imposing RPS standards, it is projected that this trend will continue for many years.
Here are a selection of recent energy storage deployments and partnerships that are currently being tested:
1. San Diego Gas and Electric – Imagine a rechargeable battery. Now imagine 19,000 battery modules, each the size of a kitchen drawer operating from two dozen, 640-square-foot trailers in Escondido, CA. This is the energy storage idea being tested as a result of the massive Aliso Canyon natural gas leak in 2015. Solar panels generate energy during daylight hours which is then stored by the battery array until required in peak-demand times such as early evening when people return home. The rechargeable batteries can then function as an on-demand power plant which will begin serving the Southern California electric grid by next month.
2. In San Antonio, a $950K grant from NREL is funding a joint microgrid project between CPS Energy and the Defense Logistics Agency. The project includes a 20 kW solar grid and 75 kW battery and energy storage system. Conducted at the JBSA-Fort Sam Houston Campbell Memorial Library, the microgrid can provide a minimum of 30 minutes of backup power, which would normally be covered by a diesel generator.
3. In Denver, the Denver International Airport, Panasonic, and Xcel have formed a partnership to install a joint solar and battery storage system at Peña Station Next, a smart city development next to the airport. The system is sized at 1.6 MW solar and 1 MW / 2 MWh battery storage. The project is a great opportunity to test how the storage system works in real life while also recovering costs by testing energy storage on the public grid.
4. Sierra Nevada Brewery, which had installed 11,000 solar panels in 2010 to provide about 20% of its needs recently contracted with Tesla to install a 500 kW / 1 MWh battery storage system. The brewery, which was named the region's Green Business of the Year in 2010, aims to become even more environmentally friendly while also reducing demand charges.
5. And closer to home, Con Edison awarded contracts in the summer of 2016 for 22 MW of peak demand reduction in a site-specific area of its territory. Stem Inc batteries will provide up to 857 kW of capacity for this project, under the Brooklyn-Queens Neighborhood Program. ConEd plans to defer the need for a $1.2 billion substation upgrade for NYC.
As one of the main stumbling blocks of renewable energy use, we are in an exciting era of innovation in energy storage. Promising partnerships between big names in the energy industry and environmentally conscious businesses prove that support for resources other than traditional power stations is growing and that commercial solutions targeted towards small and mid-sized businesses are becoming more of a reality.