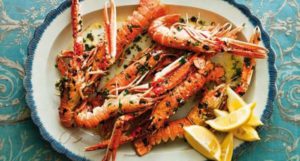 A lot of us love seafood, but have you ever taken a second to think what happens to the thousands of tons of waste (think shells, legs, and antennae) produced by restaurants, factories, and individual homes? You guessed it, the majority ends up in the trash.
Researchers in Scotland may have come up with an innovative use for crustacean waste. Chitin, an inedible shellfish by-product can be converted into durable, antimicrobial food packaging. It's the second most naturally abundant biopolymer in the world, occurring naturally in crustacean shells, insects, and mushrooms.
Scottish company CuanTec opted for langoustine shells as their source of chitin. Living near the Atlantic Ocean, they have a plentiful and relatively pollution-free supply. Chitin is extracted from the shells, heads, and tails of the langoustines then mixed with biopolymers to create chitosan. The resulting material behaves similarly to cling film.
The main benefit is being able to recycle something which was once destined for landfills. This new wrap could replace plastic, cutting down on the amount of new plastic being produced which can only be discarded, recycled or take thousands of years to biodegrade. This kind of eco-wrap is not something which would persist in the environment as plastics do. If it were to end up in a landfill it would only take a fraction of the time for it to break down into the soil.
CuanTec is also very careful to use the most environmentally friendly methods to produce the wrap. Although there are no factories producing chitosan commercially in the UK so far, CuanTec plans to produce the product through "brewing" instead of using large quantities of energy and chemicals. Although this method takes far more time, biological fermentation helps to save energy, cut costs and doesn't compromise on the quality of the final product.
Another benefit CuanTec is proud to reveal is the antimicrobial properties of chitosan. If used to protect seafood, for example, shelf life can be improved from 3 days to 6-7 days. It is expected that food wrapped in chitosan would need less or even no additional preservatives. Individuals can suffer from allergies to certain preservatives and where food is concerned, the more natural, the better. The longer the shelf life, the lower the chance of food being wasted.
Chitosan sounds like the perfect solution to packaging our food in a more environmentally friendly fashion, but are there any limitations? As with most new technology, the cost of chitosan is currently more than the most widely used plastic packaging, but according to company CEO Cait Murray-Green, it's not prohibitively more expensive.
Thanks to investment from banks and grants from the Scottish government it is hoped chitosan packaging will be introduced to UK stores in as little as 18-24 months. It is currently undergoing allergen tests to comply with EU regulations, but the company hopes to sell to a variety of markets. One barrier comes from the raw material itself. Due to it being made of seafood by-products, certain groups wouldn't be able to take advantage of all of the benefits of chitosan, like the Israeli or Indian market, or vegans. Chitosan producers are already looking into other options and sources of chitin such as mushrooms and other ocean dwellers, so hopefully a comprehensive solution is on the horizon.